Planning, snacking, thinking and Throwing it out!!! Getting on a eating schedule is one of the main challenges not only for those that are trying to lose weight but also for the people that are trying to maintain or even gain muscle. There are a few things that make this difficult but the one that people seem to have the hardest time with is snacking!! We tend to snack for a few reasons. Our bodies need more food due to blood sugar issues, we have emotional reasons or the food is front of us and it is yummy ;) . So what are something's that we can do to help curb?
Plan out your day.  If you have planned food and snacks throughout the day you are more likely to maintain a steady blood sugar level and your cravings will not be as bad.  I personally found that if I am not hungry I am less likely to snack on the doughnuts that the boss brought in as a reward, or cake for someone's Birthday.
Focus on what you are putting in your mouth. Before you take a bite, close your eyes and ask why am I eating this? See if you can figure out why you eat something? Is it you don't think that you will succeed? Do it make you feel better? This is the time you need ask why I am changing my eating and working out. Is it because you have a history of illness in your family, is it because you are trying to be a good example to your kids and the people around you, do you want to look good on the beach? Whatever the reason I bet it is better than the piece of cake that you are about to eat.
I have planned and have focused but I can't seem to stop myself!!! Get rid of it!!! If you can't resist then it is time to throw it out. You will probably have family members that will complain but in the long run I think that they will be happier to have you around then those treats. With whatever you are doing moderation, constancy and habits are the key.  It may difficult at first but if you stick with it you will get there!
TRANSFORMATION STORY OF THE WEEK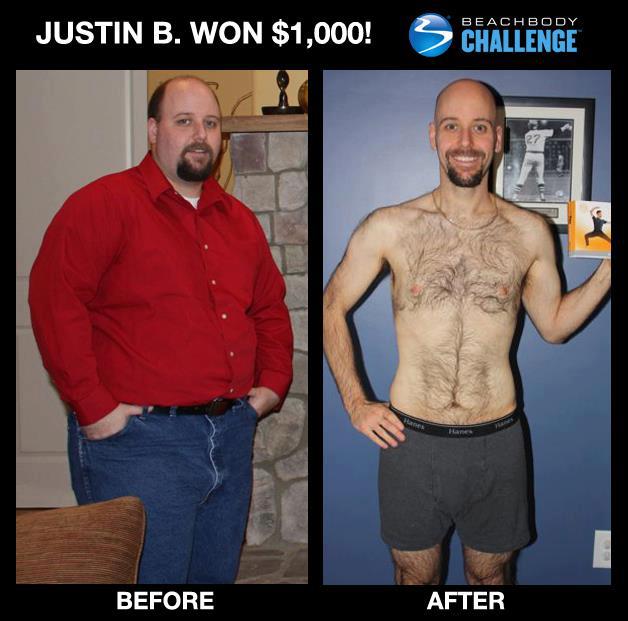 This is an absolutely AMAZING transformation! I want to give Justin a huge congratulations for the transformation he has achieved! I personally know this gentleman and he is a definite inspiration.
After the birth of his first child, Justin watched his wife lose all her baby weight and realized that he had to make some serious lifestyle changes if he wanted to be there for his family for years to come. Mr. Justin had worked himself hard with not one but two rounds of P90X and one round of Insanity. When those were completed, he used Tai Cheng to help him recover from the vigors of those workouts.
Justin is now down 121 lbs and UP $1,000 from the Beachbody Challenge! He is now setting up to do his third round of P90X to keep pushing forward on the bandwagon of results! Here is what he had to say!:
"My over all fitness level improved to heights I never thought I could reach. … Now I have ran two half marathons and will be running a third half marathon in a few months. My over all strength, conditioning and balance are the best they have ever been in my life. … Following the programs and nutrition there is no way you will not see results. I am now working to help others get fit and it is all because of the fire that Beachbody has lit in me."
Upcoming Challenge Groups!
If you don't see the program that you would like to do click
here
and send me a message and we will get you started!!
Upcoming and Past Trainer Chats
Beachbody LIVE w/Leandro Carvalho Feb 19 at 2:00 PM
Beachbody LIVE w/Shaun T Feb 19 at 4:00 PM
Beachbody LIVE w/Chalene Johnson Feb 27th at 7:00 PM *All times are EST
Like always please contact me so that I can start helping you achieve your goals!!
CoachGShort