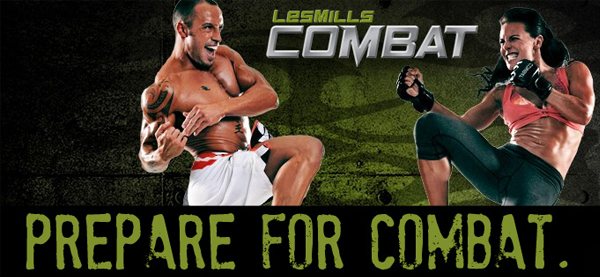 Personal Review:
I am starting this on the 25th of February, 2013.  I have watched "The Basics" DVD and Have done Kick start 30.  I am excited to see my results in 9 weeks.
What Is LES MILLS COMBAT?
Now, for the first time, you can transform your body in a way you never thought possible, carving the kind of lean, ultra-defined physique you've always dreamed of—in just 60 days.
The breakthrough is LES MILLS COMBAT—the first home-based, mixed martial arts–inspired workout ever put on DVD—and it's brand-new from Beachbody®. In LES MILLS COMBAT, you'll be doing specially selected movements from karate, kung fu, tae kwon do, capoeira, boxing, muay thai/kickboxing, and jiu jitsu all in one explosive, calorie-scorching workout.
With each sequence, you'll up the intensity, constantly firing your body's fast twitch muscle fibers—the ones with the greatest capacity for change! The Fast Twitch Integration Training in LES MILLS COMBAT is the secret to burning up to 1,000 calories an hour, while honing incredibly chiseled and defined arms, shoulders, legs, and abs.
Your best body ever is only 60 days away. All you need to do is unleash your inner warrior—with LES MILLS COMBAT.
What Is Included in LES MILLS COMBAT?

To get an outrageously shredded body, you need the right tools. We've put them together for you in 3 kits: LES MILLS COMBAT Kit, the Supreme Warrior Kit, and the Ultimate Warrior Kit.
The LES MILLS COMBAT package includes 7 workouts, the Stay With the Fight Fitness Guide, the Eat Right for the Fight Nutrition Guide, Tape Measure and Measurement Tracker, and the 60-day workout calendars.
The Supreme Warrior package includes everything in LES MILLS COMBAT Kit, plus the LES MILLS COMBAT Training Gloves.
The Ultimate Warrior Kit includes everything in the Supreme Warrior Kit, plus 4 additional workouts.
7 High-Intensity Workouts:
LES MILLS COMBAT: THE BASICS: Master the techniques as well as the martial arts-based guards and stances you will use throughout all the LES MILLS COMBAT workouts. (30 minutes)
LES MILLS COMBAT 30: KICK START: A low-complexity but high-intensity workout that introduces you to the basic LES MILLS COMBAT combination moves.
LES MILLS COMBAT 45: POWER KATA: "Katas" are martial arts training methods that develop technique and flow. This workout combines speed and power with cross-training for complete calorie scorching.
LES MILLS COMBAT 60: EXTREME CARDIO FIGHTER: Challenge your endurance and push your body to the outer limits of fitness with a high-repetition sequence of moves that will have your muscles firing on all cylinders.
LES MILLS COMBAT 60 LIVE: ULTIMATE WARRIOR'S WORKOUT: A hard-driving blend of all the martial arts featured in the LES MILLS COMBAT programs. From your upper body to your legs and butt to your core, this workout hits every muscle.
LES MILLS COMBAT: POWER HIIT 1: High Intensity Interval Training that uses short bursts of maximum effort followed by recovery to push you into muscle-conditioning overload and get you chiseled, fast.
LES MILLS COMBAT: SHOCK PLYO HIIT 2: Uses propulsion exercises to improve athletic power and endurance, pushing you into peak performance mode. This workout is the ultimate body shot!
These additional workouts are available with the Ultimate Warrior Kit:
WARRIOR 1: UPPER BODY BLOW OUT: Strengthen and tone your upper body through this unrelenting workout that combines weighted moves with body resistance to help seriously sculpt and define your biceps, triceps, shoulders, and back.
WARRIOR 2: LOWER BODY LEAN OUT: Lengthen your entire lower body—hips, thighs, buns, calves, and core—with this combination athletic/martial arts training workout.
INNER WARRIOR: STRENGTH AND STRETCH: This martial arts–based strength and flexibility training workout is designed to enhance your balance, strength, and coordination, which will make all your other moves much more effective.
CORE ATTACK: This workout uses the very best integrated and isolated exercises to give you the ultimate core strength while helping you chisel a serious six-pack.
Order LES MILLS COMBAT on Team Beachbody® and get:
LES MILLS COMBAT 30: LIVE: This high-voltage LES MILLS COMBAT class was shot live in the UK. It's designed to help you achieve leaner arms, shoulders, and upper back, while also delivering explosive leg training and high-intensity cardio.

To help you on your journey, we're also providing you with these great tools:
STAY WITH THE FIGHT FITNESS GUIDE: Follow the 60-day calendars for extreme body transformation success. Includes training tips to maximize results.
EAT RIGHT FOR THE FIGHT NUTRITION GUIDE: A detailed eating plan that helps kick off your body's ability to start burning through the fat, while keeping blood sugar constant and helping reduce your appetite. Includes dozens of delicious, workout-fueling recipes.
TAPE MEASURE AND MEASUREMENT TRACKER: Track your progress and watch your chiseled physique take shape through all 60 days of the LES MILLS COMBAT extreme body transformation.
Combat Schedule: Click Here
Click Here to see Dan and Rach Monthly Chats
Order Here:
LES MILLS COMBAT Kit
Supreme Warrior Kit
Ultimate Warrior Kit