I have always been an athlete, a trainer, and a contestant in fitness shows, but developed medical issues that produced sudden weight gain. After numerous tests, I had a medical condition where one of the symptoms is weight gain. The more weight I put on the more embarrassed I became.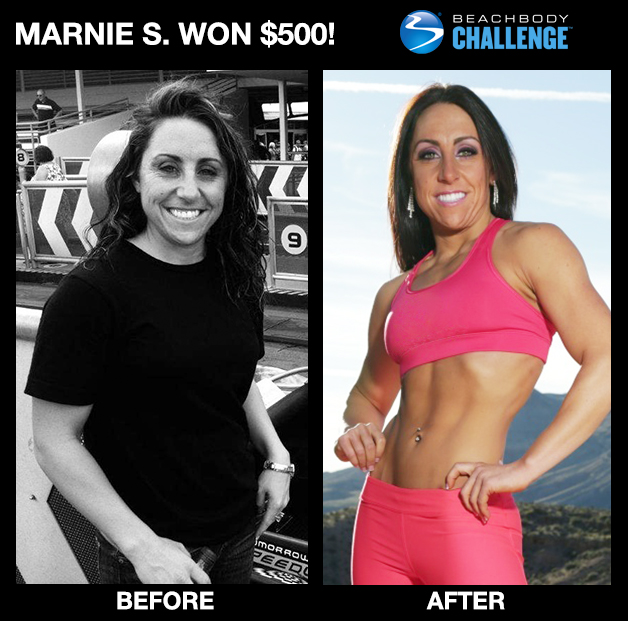 Fortunately I began dating my future husband who had great success with P90X by losing 100 pounds. After a lack of success with different fitness routines, my boyfriend suggested I try the INSANITY program.
It was the best decision I ever made. I found it incredibly challenging and broke a sweat every workout. However one of the biggest factors that made all the difference was the INSANITY meal plan. I was allowed my healthy carbohydrates (rice, beans, sweet potatoes, oats) healthy fats (nuts avocados, healthy oils) and lean protein, along with fruits and veggies.
Click here to find out more about the Beachbody Challenge and Challenge Groups
I lost 17 pounds, which may not seem like a lot until you look at 3 five-pound bags of sugar in the grocery market. On the other hand, I gained some things too. I kicked processed food to the curb for organic and natural food. I regained my body and my confidence. After not competing for 3 years due to my medical condition and weight gain, I was able to step on stage and compete in a worldwide fitness show in Las Vegas in November 2012.
Best of all, the INSANITY program changed my medical condition, has allowed me to maintain the health I have and also the confidence I desire as I go about my everyday life.