Know what it feels like to be a 51-year-old binge-eating, beer-drinking, overweight Minnesota couch potato who hides under layers of clothes (even in the summer) and fears spending the rest of his short life on multiple prescriptions for high blood pressure, high cholesterol, diabetes, and whatever other ailments plague the obese?
ABSOLUTELY TERRIBLE!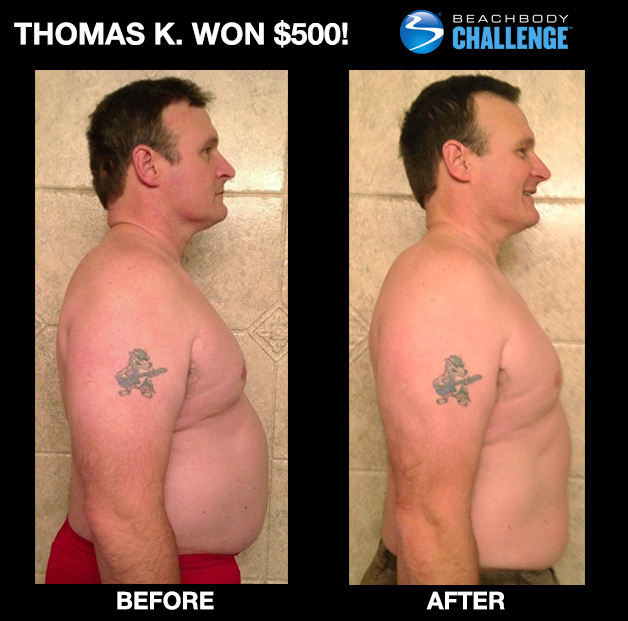 So on January 18, 2013, I started Beachbody's Ultimate Reset—and all I can say is WOW! In 21 days I lost 26.6 lbs., 7 inches off my waist, 2 inches off my chest and arms, and my body fat dropped from 33% down to 25%. And the best news is, my LDL dropped 72 points and my total cholesterol went from 240, down to 165. WOW!
Before The Reset, I was about 100 pounds overweight. And while I've still got a ways to go, doing The Reset and incorporating Shakeologyinto my diet was key to kicking off my weight loss journey. The best thing about The Reset is that it taught me how to eat. The menu was packed with tons of delicious recipes and I was never hungry, even with the smaller portions. They say it takes 21 days to develop a habit. Well, those 21 days have come and gone, and all I can say is that I'm hooked on living healthy.
I joined a Facebook Group for each phase during the 21 days , which helped keep me committed. Being able to talk with others made me realize that if they could pull through and keep resetting their bodies, then I could do it too. And not once did I ever feel like I was going at this alone.
Now I have so much more energy and my sleep is ten times more restful. But sometimes I don't want to sleep I just lay awake, proudly thinking about all I've achieved. It's such an incredible feeling knowing that you took control of your life and finally did something that would add years to it, versus cutting it short. Besides, I got a lot to live for. I've been married for 25 years and have 3 wonderful kids who need a dad.
Maintaining this new lifestyle won't always be easy because life is full of temptations. But I'm moving in the right direction and it makes me so happy that I won't need drugs to battle health issues and the probability of other illness related to being overweight have diminished. I have so much more self-confidence than ever, and my wife and family are a million times happier now that I am happier with myself. Thanks Beachbody, you saved me.