What a fantastic place for the family to spend some time together.  They have a lot of exhibits that you can go through and play with and there is a lot of information about NASA and the universe in general.  This is the first time that I have been to the Clark Planetarium and I think that last time I went to the old Hansen Planetarium was in High School for one of their laser shows.
Before the show we took a little stroll on the Moon and then headed over to Mars!
The boy is having a little trouble breathing without and oxygen, LOL!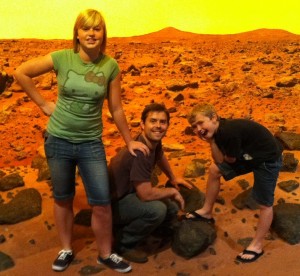 Me and the kids on Mars!
The dome theater was impressive and unlike a regular movie you want to be at the very back of the theater to make sure you can see the whole ceiling.  I used a program 360Panorama recommend by my Friend Sean Blake to take the picture above.  Look at the 180 degree view here http://360.io/97x3UJ