On the 13th of August I climbed Mount Timpanogas with my sister, her friend Frank, and my father-in-law.  Everyone needs to do this hike as it was incredible.  Below are about 30 out of over 100 pictures of the hike.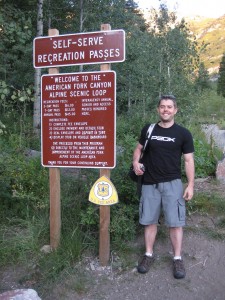 We left just before 7 AM.
Here is the father-in-law trekking along.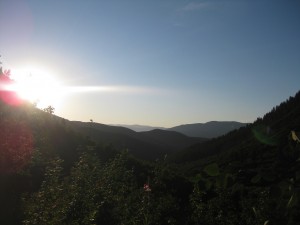 Sunrise!
First snow that we came across.
First Snow that we had to cross, you can see my sister.
We had to cross three more snow banks which took us over an hour as on many of them we had to wait our turn as there were quite a few people making the trek up the mountain also.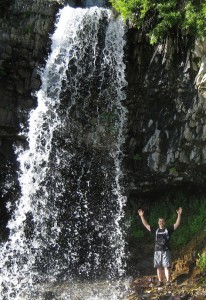 This is my favorite waterfall as you have to walk behind it to continue on the trail.
Beautiful view of Heber Valley and Jordanelle Reservoir.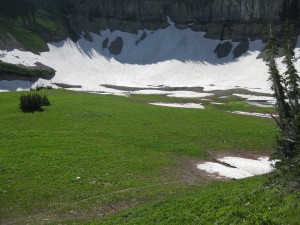 An awesome meadow right before you get to Emerald Lake.

First View of the top!!
Not much of a lake but there it is Emerald Lake.  I later filtered some water out of it and it tasted perfect and very cool.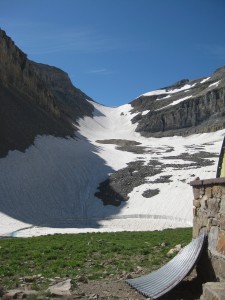 There is the glacier that I slide down, check out the video at the end.
T.E.R.T (Timpanogas Emergency Response Team) Shack.  A great group of volunteers that help people who have any issues on the way up.  They even filtered water for people who didn't bring enough.

Here are a few Mountain Goat.  There were probably 25 – 30 up in the meadow by Emerald Lake.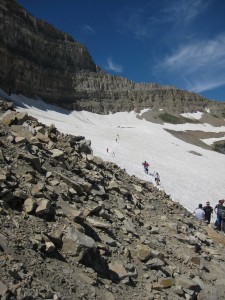 This was my least favorite part of the hike last time I climbed Timp but this year it was a breeze.  I thank P90X Plyo :D
Finally made it through all the rough stuff now for the views!!!
Sis and me with Utah Valley and Lake in the back ground.
Click on the link for a 360 degree picture of the saddle: http://360.io/8xYqeP

Panorama of Heber Valley
 Some steep switch backs from the saddle to the peak.

360 degree view of the top of Mount Timp: http://360.io/gMGRtj
Official Survey marker so you know I didn't make up the whole story.
Emerald Lake from over a 1000 feet above, not a cliff that I would want to get any closer to.
And this is the glacier that I slide down.  Now I have done it before and sadly this was probably the last time I will do it (at least the last time without long pants and an ice pick).  Why do you ask, just watch the video below.
After a 7 hour hike down the mountain on a sprained foot (I got x-rays and nothing is broken), I would do it all over again because it was incredible of a hike.
[fgallery id=2 w=450 h=385 t=0 title="Stewart Falls"]