Up until this past year when I packed on 52 pounds of pregnancy pudge, never in my life have I been overweight, or out of shape. Actually, I was that 6-foot tall athlete who had a killer body and cocky attitude; truly believing that I did not need a workout program to keep me fit because I was genetically gifted.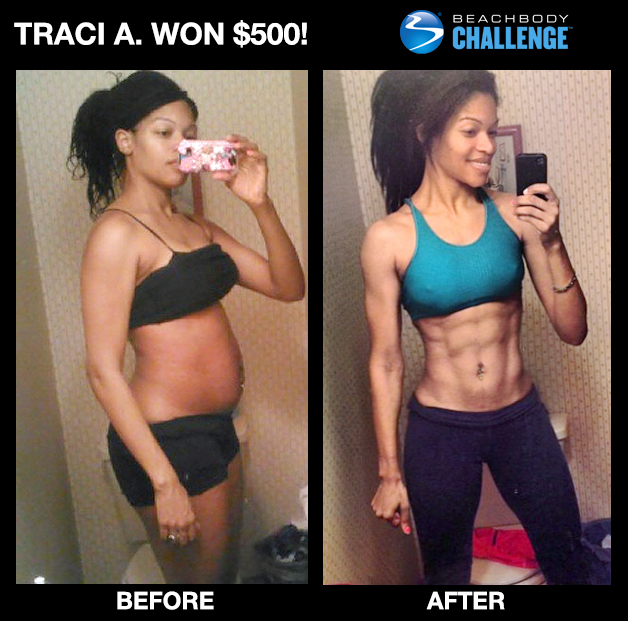 But once I ballooned to 200 lbs. while prego with my first kid-o, I realized that if I didn't seek out help to lose the baby weight, I'd end up just like all the other women in my family who got bigger and bigger with each and every kid they had. And there was no way l was going to use their lame excuse of, "I'm a mom, so it's okay that I'm out of shape." So I bought INSANITY shortly after giving birth and my abs became visible within three of starting the program!
Click here to find out more about the Beachbody Challenge and Challenge Groups
Almost instantly, the fat started melting away, and I was getting stronger and more ripped than ever. And in 30 short days, I had my abs back—MY PRE-PREGNANCY ABS! I've never experienced such fast results before from exercise; not only was I shocked, so were my friends, family, and even South Carolina's WACH Fox News—who did a story on my incredibly quick post-pregnancy bounce back.
While there were many skeptics who swore up and down that I was lying and had used old pictures for my "AFTER" results, their cruel words didn't faze me one bit because I knew the truth: I put in the work, I got the results. Now that I've completed INSANITY, I've since moved on to Brazil Butt Lift so I can sculpt a sexy bum-bum to match my awesome abs!!
I absolutely love these Beachbody programs and will be the first to attest to the fact that you CAN get real results from these in-home workouts. If I did it, anyone can. Thanks Beachbody. You rock.