So recently I went down to Las Vegas for Beachbody's annual Beachbody Summit.  One of this years activities was the first ever Beast Classic physique show.
The week preparing for the show was tough.  Lots of calorie watching and making sure that I had the correct ratios of protein, carbs and fat, drinking up to 2 gallons of water a day and watching the sodium intake.  I am glad that I did it.
I had the pleasure to stay and competing with my new friend Ian.  He is a team member of a fellow coach and simply is a great guy.  Here we are after the show.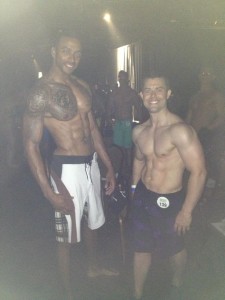 The first day was pre-qualification and that was a ton of hurry up and wait, but the experience was incredible as it was interesting to see how the judging was done and meeting the other competitors.  And posing is not simple, huge respect gained for people that do these shows for a living.
The next day was the actual show and it was nerve-racking and exciting at the same time.  Nothing like getting in front of a couple of thousand people in nothing but board shorts.  I was on of the top 10 finalist which was my goal.  Take a look I should be the fifth person (yes I do the splits):
The question has come up of "Will you do it again?", I don't know at this point (tho I am leaning toward yes), but only time will tell.
The best thing is that my body was made at home.  I didn't visit a gym except for a few times for fun.  I used the premium supplement from Body Beast along with the nutrition guide that comes with the program.  Simple as 1, 2, 3.
I have a team of people who are currently doing this program and many other programs to change their life.  Come join us, click here to contact me!  Or join the Team here: Free TeamBeachBody Account