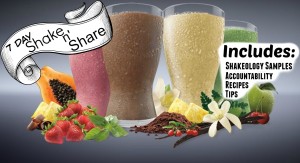 Hey everyone. Check this out. If you have talked to me about Shakeology but haven't tried it, now is the perfect time to give it a go.
Have you heard me or other talk about this Shakeology stuff and wondered what the heck it's all about?
Have you wondered what all the buzz is about?
Been wanting to try it yourself but didn't want to commit to a full month right off the bat?
If you answered YES to any of those questions, YOU'RE IN LUCK!!
Join us for this 7 day Shakeology Shake N Share beginning ***insert date here*** where you can try Shakeology and see for yourself why so many of us LOVE it and never miss a day.
What can Shakeology do for YOU???
** Help curb cravings
** Promote healthy weight loss
** Increase your energy level
** Improve digestion and regularity
And that's just the BEGINNING!
So what is the group all about??
We provide you with recipes and tips on how to make the shakes and all YOU do is drink them. Easy!! We'll provide you with accountability to keep you on track during the 7 days and most of all, we'll have some fun.
What do you have to do to join us??
Email me at greg.short@noble-team.com or send me a message on Facebook https://www.facebook.com/gshort76.  For $30, you get 6 sample packets of Shakeology to use for the week and a spot in this FREE support group.
We hope to see you joining us for these 7 days that could be a GAME CHANGER in your fitness journey!