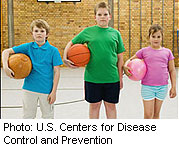 TUESDAY, April 10 (HealthDay News) — American youngsters have a long way to go to reach new goals for a lower childhood obesity rate, a new study shows.
The U.S. Department of Health and Human Services has set a goal of reducing the childhood obesity rate to 14.6 percent by 2020, and to do so children aged 2 to 19 would need to eliminate an average of 64 calories a day.
Without this reduction in calorie intake, the average child or teen would be nearly 4 pounds heavier in 2020 than a child of the same age in 2007. In addition, more than 20 percent of youth would be obese, up from 16.9 percent currently.
The last time the childhood obesity rate in the United States was 14.6 percent was in 2002.
"Sixty-four calories may not sound like much individually, but it's quite a consequential number at the population level, and children at greatest risk for obesity face an even larger barrier," study author Dr. Y. Claire Wang, an assistant professor of health policy and management at Columbia University's Mailman School of Public Health in New York City, said in a university news release.
"Closing this gap between how many calories young people are consuming and how many they are expending will take substantial, comprehensive efforts," Wang added.
The new goal could be achieved by reducing calorie intake, increasing physical activity or both. But, although 64 calories is the overall average reduction required to meet the 2020 goal, certain groups of young people may need higher or lower calorie reductions.
White youngsters would need an average reduction of 46 calories, compared with 91 calories for Mexican-Americans and 138 calories for black children, who have higher rates of obesity. Children and teens in low-income communities also have higher rates of obesity and would require greater calorie reductions than those in higher-income areas.
The researchers suggested many policy strategies that could help American youngsters reduce calories:
Replacing all sugar-sweetened beverages in school with water and preventing children from drinking additional sugary beverages outside of school could eliminate an average of 12 calories per day.
Having children aged 9 to 11 take part in a comprehensive physical-education program could eliminate an average of 19 calories per day.
After-school activity programs for children in kindergarten to fifth grade could eliminate an average of 25 calories per day.
The study was published this week in the American Journal of Preventive Medicine.
More information
The U.S. Centers for Disease Control and Prevention outlines how parents can help their children maintain a healthy weight.
SOURCE: Columbia University, Mailman School of Public Health, news release, April 10, 2012